Fighting Fit kickboxing brings new dimensions to body fitness for all those who have busy, stressful lives. The unique three stage classes run all over London and the South East, combine a tailored programme of martial arts, positive attitude training and focus, promising to get your body and mind in great shape, to take on anything life can throw at you.
Step 1 - Fitness:
Tony Lloyd, 7th degree black belt, Fighting Fit's founder, and a martial artist for over 30 years, has developed a fitness programme based on a combination of simple warm-up, aerobic exercises and kick boxing techniques.
Tony says. "Kickboxing will get you in better shape, physically and mentally, faster than any other fitness form, because it is all about assertive exercise. When you train in kick boxing you practice punches and kicks, you do bag work and sparing, all of which require far greater energy input than ordinary aerobic activity, so the body changes shape and gets fitter, and tones up faster.
My routines also help to relieve stress and release pent-up aggressions after a hard day at work. There is nothing like taking out your frustrations on a punch bag!. Also, I tailor my routines to my clients' particular needs and incorporate self defence with techniques from - Karate, Kung Fu, and even Aikido, for peace of mind. And for people who like to progress their training to an advanced stage, we offer a grading system too."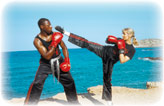 Step 2 - Positive attitude:
Tony again: "I teach using the confidence pyramid process. It works by confronting people with their greatest fear; for many this is the fear of personal injury.
By overcoming this fear by learning martial arts you will have the confidence to tackle lesser fears, those further down the pyramid - fear of failure, fear of the boss, dogs, spiders, and so on.